Prepare yourself for a future in the world of veterinary medicine. 
Ready to start? OCVAS can show you the way.
It is the Mission of OC Veterinary Assistant School to provide students with an affordable educational option to achieve their desired professional goals as a Veterinary Assistant or Alternate Route Registered Veterinary Technician. OC Veterinary Assistant School is committed to helping those working in a veterinary hospital to further their knowledge and skills, and to help those aspiring to work in an animal hospital become a welcome addition to the veterinary industry.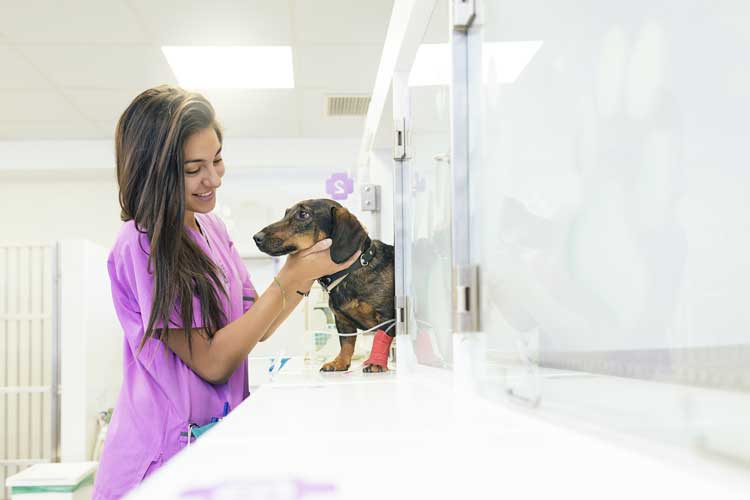 Like to work
with Animals?
OCVAS specializes in training veterinary professionals. Learn from Veterinarian's, RVT's, and Education Professionals with decades of experience. Whether you are looking to begin working with animals or have many years of experience, we have the right classes for you.
Garden Grove
12752 Garden Grove Blvd Suite 250
Garden Grove, Orange County 92843
Lake Forest
23161 Lake Center Dr. Suite 235
Lake Forest, CA 92630
Veterinary Attendant Program
For those just beginning their future in veterinary medicine and have no, or little experience in a clinical setting.
Level 1 Veterinary Assistant
Intended for those who have either finished the Veterinary Attendant Program or have clinical experience.
Level 2 Veterinary Technician
Intended for advanced students who have completed the Level I Class requirements and can pass the Level II Assessment Exam.
At OC Veterinary Assistant School, we provide students with a rich and diverse learning environment. We are here to walk with you through your journey in becoming a Registered Veterinary Technician. Our school is owned and operated by Veterinarians, Registered Veterinary Technicians, and Education Professionals.
At OCVAS we offer a unique method to becoming a Registered Veterinary Technician or Attendant. Our programs enable you to work at a veterinary clinic while attending classes. Veterinary Attendant students are given an internship at a local veterinary hospital alongside their classes, giving a real sense of what it takes to be a Veterinary Attendant, Receptionist, Assistant, or Technician.
Shawna M.
The director and instructors are very knowledgeable and are always willing to help the students achieve their goals.  These people truly care about the students and their success.

Madison M.
The staff at OCVAS is amazing and went above and beyond to make sure that all of us students strived to do our best and were prepared for the veterinary field.
Felice Cohen
OCVAS is a great school for anyone who is passionate about working with animals. The staff is always there to answer any questions and they really go above and beyond to help see their students succeed. I have loved my education at OCVAS and would recommend it to anyone interested in the animal field.
Nereida Lariz
This school is great! I'd totally recommend! The prices are really good compared to other schools and it helps you get into the field pretty fast. The classes are also very flexible!
Cassandra Gallardo
OCVAS is amazing. The staff goes above and beyond to help you. Anthony was great at going through all of the course details and answering all of my questions before starting. Phil was great at explaining all of our lectures and really going above and beyond with our internships. Can't wait to go back and start the Level 1 class.
Brittany Bouvier
Awesome school! Highly recommend for anyone who wants to work with animals. All the instructors are super informative and helpful. Very affordable! I am happy to call this school my place of education and genuinely enjoy coming to class every week!
Lauren Feldbruegge
If I could give more than 5 stars I would because this school is incredible. I love going here and am thoroughly impressed with the level of education I am receiving. Phil is an incredible teacher and Anthony is super helpful. Coming to this school is the best decision I've ever made and I couldn't be happier going here!! Thank you OCVAS!!
Kira Adray
This school is an incredible opportunity to further your knowledge in the veterinary field while having the time to work and apply what you learn in a clinic. The class sizes are small which allow for a more comfortable and interactive learning experience. Phil is an incredible teacher that makes sure each student gets the help and motivation they need.
Dulce Ignatoaie
Great school to attend. Phil is an awesome instructor, he goes over everything in detail and really cares about each of his students.
Simply Housecalls
I am currently enrolled in the program and it has been a great experience. The staff is very helpful, available and make you feel like you can approach them with any questions you may have. The program is very complete and quick paced. The classes are small so there is a more one on one feeling.
Nikki Villalobos
I absolutely love it here! This school is so helpful and everyone here is extremely nice. They help with job placement and are very affordable. Highly recommend!
Hedy Herold
I have worked with Phil and his students for years. This program produces quality veterinary assistants and technicians. Several of our employees started their training with this program.
Jayden Spinn
This is a great option for alternate route that is more affordable than other schools. The teachers are great and I've already been able to apply a lot of what I've learned at work.
Jill Herzog
The staff is amazing and always helpful! I have learned so much! I highly recommend this program to further your veterinary career!
Jessenia Marie
I am currently going through level one and this is by far one of the best schools I have ever been to. Jenny is the best teacher ever! I'm learning so much and they helped with job placement. Definitely affordable too.
Kasaundra Shepard
I'm so happy to have found this school. You will always feel welcome, and the staff is just amazing and so personable. I've never been the most outgoing but being here I feel so much more comfortable. I have already recommended this school to close friends that want to be in the veterinary field, and I will continue to do so in the future.
Learn more about our programs or explore our two campuses to find the perfect fit for you.