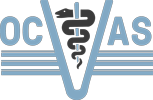 OC Veterinary Assistant School with locations in Lake Forest, CA and Garden Grove CA offers both an Alternate Route Veterinary Technician Certificate Program and a Veterinary Assistant Certificate program. This article is going to give readers some insight on what is the difference between a RVT and Veterinary Assistant.
Veterinary Assistants and licensed Registered Veterinary Technicians (RVTs) are both important members of a veterinary team, but they differ in terms of education, training, and job responsibilities.
Veterinary assistants typically have on-the-job training and may have completed a vocational or technical training program, but they are not required to have a degree or certification. Their job duties can include assisting with animal care, such as feeding and bathing, restraining animals for procedures, cleaning and maintaining equipment, and helping with administrative tasks such as scheduling appointments and answering phones.
On the other hand, RVTs have completed a two-year accredited veterinary technology program or in certain states, such as California, an Alternate Route Veterinary Technician program and have passed a national exam to become licensed. Their job duties can include administering medications, collecting and analyzing laboratory samples, dental extractions, suturing, performing diagnostic imaging, assisting with surgeries, and providing anesthesia to animals under the supervision of a veterinarian. They also have a deeper understanding of animal behavior and medical conditions, allowing them to provide more specialized care.
In general, veterinary assistants work under the supervision of RVTs and veterinarians. While both roles are important in providing quality care to animals, RVTs have a higher level of education and training, allowing them to take on more complex medical tasks and responsibilities. However, veterinary assistants play a vital role in supporting the RVTs and veterinarians, ensuring the smooth operation of the veterinary clinic or hospital.
Interested in pursuing a career as an RVT or Veterinary Assistant, visit us at OC Veterinary Assistant School and learn how we can help you start your educational journey.